Haunted Swamp in Twin Falls, ID
We started the Haunted Swamp at Magic Mountain Ski Resort 15 years ago as a fundraiser for our ski patrol and ski instructors, and to support other charities. It's a 1-mile walk through outdoor terrain that covers rivers, bridges, trees and more. But, as the name implies, it's more than just a scenic walk. Ghosts, goblins, zombies and more await your arrival and try to scare you out of their swamp!
We're extremely proud of what the Haunted Swamp has developed into over the last decade in Twin Falls , ID. We've got some of the most amazing props and we continue to create an experience that's both frightening and fun for people of all ages. Plus, there are 60-75 actors waiting to play their part in giving you a unique experience so you won't get bored!
The Haunted Swamp is open just in time for the fall season and we welcome guest throughout the season before winter and ski season arrive. Come visit us on any of the following dates:
Open every weekend from Sept. 15th-Oct 29th
1 Wednesdays Oct. 26th 7:00-9:00pm
Kiddie Day Oct. 15th
Located 646 S Park Ave W Twin Falls, ID
Special Nights
Throughout Haunted Swamp season we run special day as a way to make our attraction a destination for families. Kiddie Day is a fun way for the younger kids to trick-or-treat through the Haunted Swamp and play games, trick or treat through the swamp,  and jump around in the bounce pad.
Kiddie Day ($10 each): Oct. 15th (11 a.m. – 3 p.m.)
OPENING NIGHT SEPT 16th – BOGO
Saturday Sept 17th – $5 off ticket price with a canned food donation. (Canned food to be donated to 2 needy families)
Ticket Rates
The Haunted Swamp is meant to be a family fun attraction that's affordably priced for any sized group. Our ticket booth opens at 7:30, with the last ticket selling at 11 p.m. Stop in today to get tickets for yourself, your friends and the family.
Ages 11 +: $22
Ages 7-10 – $20
Ages 3-6: $15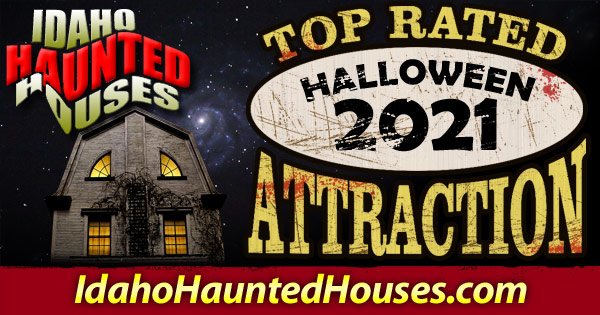 Enter if You Dare!
Think you can survive the swamp and make it to the other side with your wits about you? Enter if you dare and watch out for the horrors that lurk in the Haunted Swamp! To learn more about what you're getting yourself into, contact us and call 208-736-7669 today.